The Life We've Chosen: Post-mortem
---
It was August 2021. Spooktober Visual Novel Jam was approaching. I had several ideas fighting for attention inside my head, but then this new, even more attractive idea came out of nowhere and obviously I had to pick that one. I'm glad I did! The idea was this: "Depressed 30-something has discovered an equally depressed demon in their backyard. They talk. A lot. There's a friend character who thinks this is messed up. Choose your own adventure."

The idea came mostly from my desire to see more games with unconventional, monstrous characters who have very relatable and "human" struggles. It's not a new idea - my existing sci-fi series explores similar topics, but what I really craved this fall was to focus on one such monster and tell their story. I built the whole premise around the demon, really. They are not the protagonist but they are the main character, at least to me.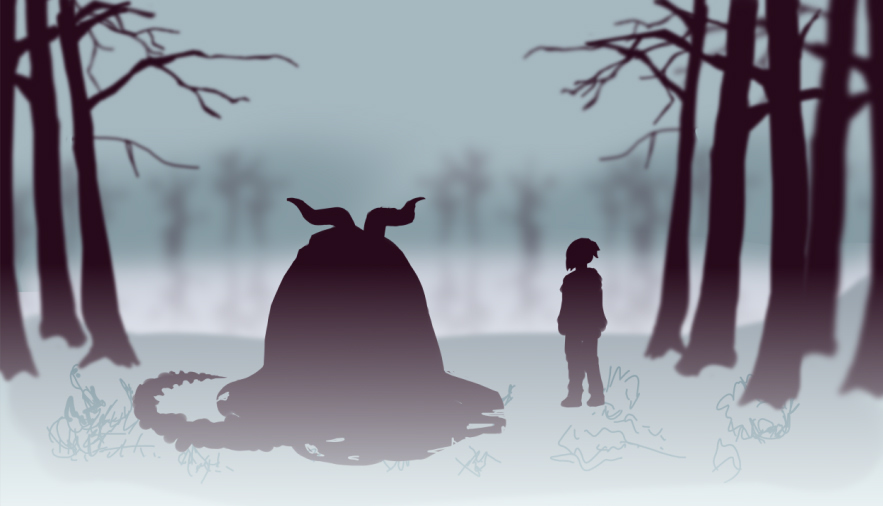 [ Concept art of the demon and the protagonist ]
In August, I made a plan. The jam would run from September 1st to October 1st, which meant that there would be four full weeks available for development. I divided my predicted workload into four parts and came up with a schedule. Every week during the jam, I would produce:
1 character sprite
1 CG (illustration)
3-4 scenes of script
I knew it would be a tough schedule to stick to, so I made sure the most important assets would get produced first, and the least important assets could be dropped completely during the 4th week if necessary. That is exactly what ended up happening; I was planning on drawing a separate side sprite for the protagonist and one additional (bad end) CG during the 4th week, but I dropped both in favor of focusing on the script. You see, during the first 3 weeks I severely neglected the script! I'd planned on writing 3-4 scenes a week, but the reality was more like 1 scene a week if that. I just didn't have the energy for more. Art is harder on the brain than I thought.
The script was supposed to be longer. With my highly detailed outline that I'd written back in August, I thought 10 000 words would be difficult but doable in one month. It turned out I overestimated my abilities a fair bit - the script ended up being around 8000 words. I even remember toying with the idea of 15k in August. Ha! 8000 words was acceptable, however. Despite having to cut out some lovely scenes, I'm satisfied with the final script; it has everything necessary to tell the story I wanted to tell, and that's what matters.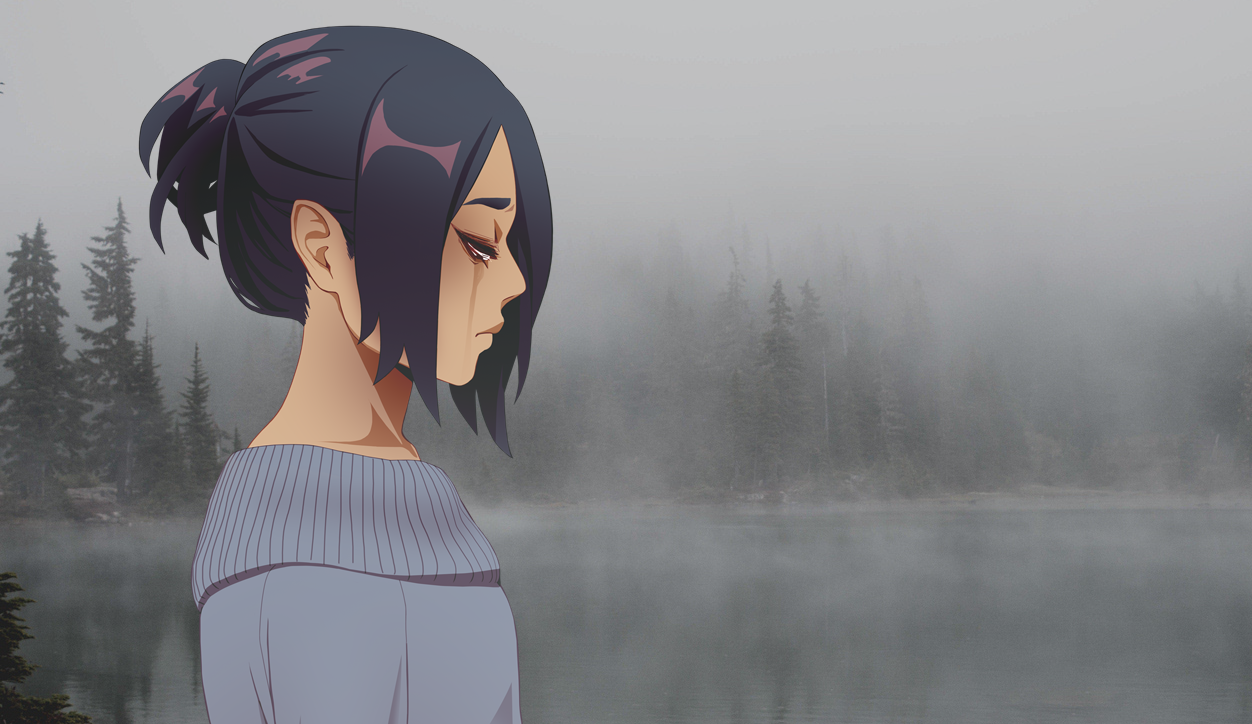 [ Mid-production test image of the protagonist at the lake ]
The scenes that ended up getting dropped were all about showcasing the nature of the protagonist's relationships with the two other characters. For example, there was supposed to be a scene in which the protagonist and the demon discuss death and the inevitable end of the world, and come to understand each other better through the talk. It's unfortunate I had to cut it due to time constraints, but I managed to shove some elements of the conversation into other scenes. I hope the character arcs have remained solid despite being shorter than intended.
Anyway! I'm very happy with how The Life We've Chosen turned out. I'd been wanting to make a more introspective, less plot-driven visual novel for a while, and Spooktober provided a great opportunity to do so. It was fun to participate with a project of my own this year. I've really enjoyed reading everyone's comments, so thank you for those! It warms my heart to know that something I wrote resonated with others, too.
As usual, you can follow me on Twitter @Cryoslight for weekly updates on my projects! I'll get back to working on the next chapter of my sci-fi series soon. Thank you for staying interested. <3

Get The Life We've Chosen